The localization tool for agile teams
Don't let your multilingual apps keep you up at night. Texterify offers you the possibility to manage your software translation efficiently and quickly. Everything you need merged in one app. It is just as easy as that.
With free, cloud and on-premise plans.
No credit card required
Features
A selection of things you will love
From developers for developers
Stay in your usual flow and save time by not leaving your development environment. Enjoy good User Experience and work all night long with the integrated dark mode.
Export it how you need it
Imports and exports made easy with Texterifys setting options. Configure your language strings for iOS, Android or web, always how you need them.
Whitelabeling made easy
Reduce the complexity of branded apps by using Texterifys different states of whitelabel featuring. Personalize Texterify for your own brand.
Keep an eye on the past
See contributors changes over time. Track the progress and stay tuned with a translation workflow where you know who is doing what and when.
Show me all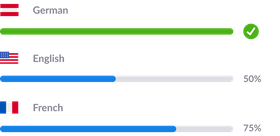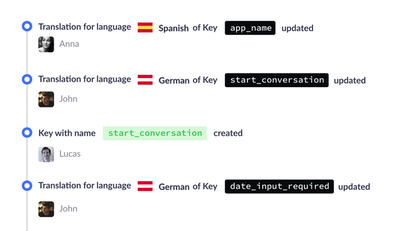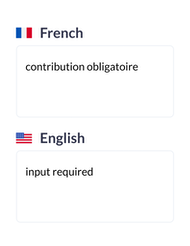 Collaboration
Work together as a team
Collaborations made easy. Texterify offers the possibility to add different members to your project. Work side by side and know what's going on.
Product Manager
Manage your multilingual products and ensure a qualitative localization process.
Developer
Focus on developing new features and not on managing the localization process.
Translator
Coordinate your translations more effectively and check your progress on a glance.
Tools & Integrations
Seamless integration into your workflow
Automate your workflow with various integrations, tools and a powerful API.
Never leave your editor and terminal again.
Command line interface
The CLI allows you to add keys and download your translations without leaving your command line.
Show on GitHub
$ texterify download
✔ Downloading translations...
✔ Extracting translations...
Successfully downloaded and extracted translations.
Explore other integrations
iOS SDK
Update the texts of your iOS apps without publishing new releases.
Show on GitHub
Android SDK
Update the texts of your Android apps without publishing new releases.
Show on GitHub
VSC Extension
Add and download keys right from Visual Studio Code.
Show on GitHub
What people are saying about us
"Our favorite product to manage software localization"
Michael Steiner
Co-Founder all about apps
Trusted by these awesome people
and more than
250+
other successful teams